About RW Financial Results
We are a firm of mortgage advisors offering friendly, quality advice to individuals who are looking to either purchase a property or remortgage an existing property. We have been assisting customers across Surrey and Sussex on their mortgage needs since 1999 and as such, have many years experience in this field. We are able to meet with clients either at our conveniently placed office, just off Reigate high street, or at their home or place of business.
If you wish to make an appointment to speak to one of our advisors, then please contact us using the information below.
Products & Services
RESIDENTIAL MORTGAGES
BUY TO LET MORTGAGES
REMORTGAGES
PRODUCT TRANSFERS
SECURED LOANS
BRIDGING FINANCE
COMMERCIAL MORTGAGES
LIFE ASSURANCE
CRITICAL ILLNESS COVER
INCOME PROTECTION
We offer a comprehensive range of Residential and Buy to Let mortgages from across the market, but not deals that you can only obtain by going direct to a lender. A list of our lenders can be provided upon request. For second charge lending, bridging finance and commercial mortgages, where appropriate, we will refer you to an Intermediary Partner who can provide advice in this area. We offer products from a range of providers for Life Assurance, Critical Illness Cover, Income Protection Benefit. A list of our insurance companies can be provided upon request.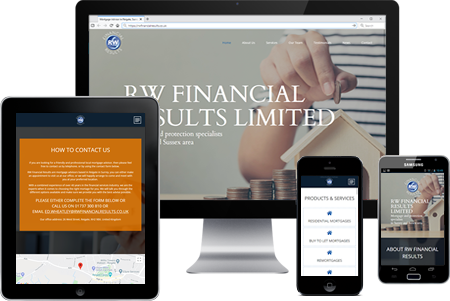 Our Team
Ed Wheatley
Mortgage & Protection Adviser
I have worked in the financial services industry since 1988 where I joined Lloyds Bank straight from school. In 1999 I became a self-employed mortgage & protection adviser initially working in Redhill and more recently working in Reigate for Antonor LLP until 2016 when RW Financial Results moved to its new location.
When I'm not in the office I try to spend as much time as possible with my wife and 4 children, which normally involves standing on the side of a Football or Rugby pitch or sitting in a theatre watching a panto or a show.
I am also a member of Horsham Borough Band where I play the Bb Bass (Tuba to most people).
Andy Dutton
Mortgage & Protection Adviser
Andy has been in the financial services industry for many years, previously running his own financial services company. Andy worked for Antonor up until 2016, when he joined RW Financial Results. Andy specialises in mortgage and protection for his portfolio of clients. In Andy's spare time, he enjoys watching football and supporting his beloved team: Crystal Palace.
Howard Bayliss
Mortgage & Protection Administrator
Howard joined our team at RW Financial Results in Feb 2021 where he carries out the mortgage and protection administration for our clients. In Howards spare time he likes to follow Fulham FC as well as his local club Horsham FC.
Testimonials
Gary Streets - Caterham, Surrey
Having used my previous mortgage advisor for over 12 years i decided to compare what he was offering with Ed Wheatley. Not only did Ed manage to find me a better mortgage he also provides honest and sound advice. I would have no hesitation in recommending Ed to not only family and friends but anyone who needs a mortgage.
Karen - Godstone, Surrey
I have used Ed as my mortgage adviser for many years. He is thorough, helpful and most importantly I completely trust his advice. I have recommended Ed many times and continue to do so. Howard is also excellent, super helpful and very efficient.
James & Amber - Horsham, West Sussex
Hi Ed. Thank you for your time today, it was reassuring for both of us to sit down and run things by you. We find all this quite daunting but your knowledge and patience definitely reduces the stress.
Rajan - Redhill, Surrey
We can't recommend the team at RW Financial Results enough! Ed and Howard have been wonderful at helping us throughout the entire process - with spending extra time explaining all the confusing areas clearly! They have been very patient with us, and helped us throughout the entire process of buying our first home! 10/10 in every way! Thank you guys - we couldn't have done it without you!!!
Jakub - Redhill, Surrey
Thank you very much, your services are greatly appreciated and I am consistently pleased with the good work you are providing me with.
Ruhul - Colchester, Essex
Looking at mortgages can be a daunting experience but with Ed's help, my partner and I felt extremely looked after. He was patient, listened to all our queries (no matter how silly they may have sounded) and answered them effortlessly, leaving no stone unturned. Talking to Ed was like going to a family member, he was extremely understanding and made the whole process feel like a friendly chat. There is nobody I would trust more for all my future mortgage needs and I will definitely recommend him to anyone that I can.
Jerry & Riitta - South Croydon
I would like to take this opportunity to say how impressed we have been of the service and advice provided by RW Financial Results Ltd. Remortgaging is not something done lightly and you have treated us professionally and reassuringly throughout the whole process. It is clear that borrowers may choose to find a lender by themselves. However, lenders can be fickle and RW Financial Results Ltd is fully aware how to navigate lenders on behalf of its clients. For a very acceptable fee we felt very comfortable that, despite our particular circumstances, we would find something in line with our needs and RW Financial Results Ltd has delivered 100%.
Ryan - Bournemouth, Dorset
I just wanted to thank you and your team so much for all of your help throughout the buying process, you really helped to make it a smooth and enjoyable process for me!
Mark S - South Nutfield, Surrey
This is now the second time we have used RW Financial Results for our house buy. For the two purchases, Ed and Andy have delivered an impeccable service, more so this second, recent time due to short notice changes within the chain outside of our control. Both Ed and Andy are amazingly calm individuals; exactly what is needed during times of intense panic on our part! They are totally professional, diligent and precise, and have worked tirelessly on our behalf to ensure we were able to meet deadlines at the right time with all the boxes correctly ticked. We are now in our new home, in no small part, thanks to the enormous efforts put in by Ed, Andy and their supporting team. I would unequivocally recommend RW Financial Results to anyone who is looking to purchase. These are the only people you will need and I heartily commend them to you.
Sarah-Lynne & Rickkie - Croydon, Surrey
Wow, Where do we begin?! We can't quite believe we have finally moved into the house of our dreams. We are absolutely thrilled, and could not have managed all of this without your amazing help. Ever since our friends recommended we go through RW Financial Results for the purchase of our property, we have been so impressed with your professionalism, your customer service and your kindness to us. A huuuuuge THANK YOU from the bottom of our hearts! We will definitely be using your services again, and we have already recommended your amazing services to our friends who are also looking for a new property in Croydon/Bromley area.